Questions?
Austin Energy
Customer Energy Solutions
4815 Mueller Blvd.
Austin, TX 78723-3573
512-482-5346
512-972-8350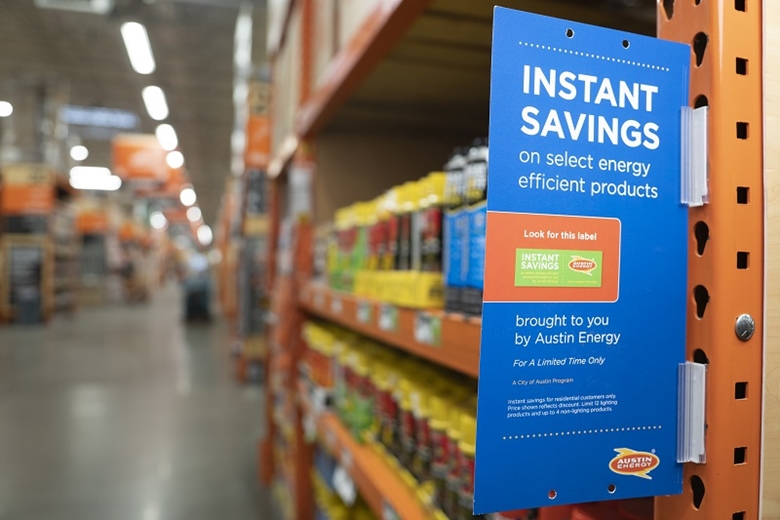 Saving money and energy go hand-in-hand when you buy select products at participating local stores.
Austin Energy customers can save on select energy-efficient products, including ENERGY STAR® products, at participating Austin-area stores. Products marked with the Austin Energy logo and green shelf tag are eligible for hassle-free discounts. Austin Energy offers Instant Savings to help customers choose industry-leading products that can improve the energy-efficiency and comfort of their homes.
Save Where You Shop in Austin with Our Limited-Time Discounts
Find high-quality, energy-efficient products at the participating stores listed in the table below.
Shopping Tips:
Not all store locations participate in Austin Energy's Instant Savings program.
Verify that the specific store near you is participating before planning a trip.
Product availability is limited and available only to Austin Energy customers on a first-come, first-served basis. Discounts are subject to change without notice.
What to Look for When You Shop
To ensure you are buying a discounted energy-efficient product, look for the Austin Energy logo and green "Instant Savings" labels on store shelves.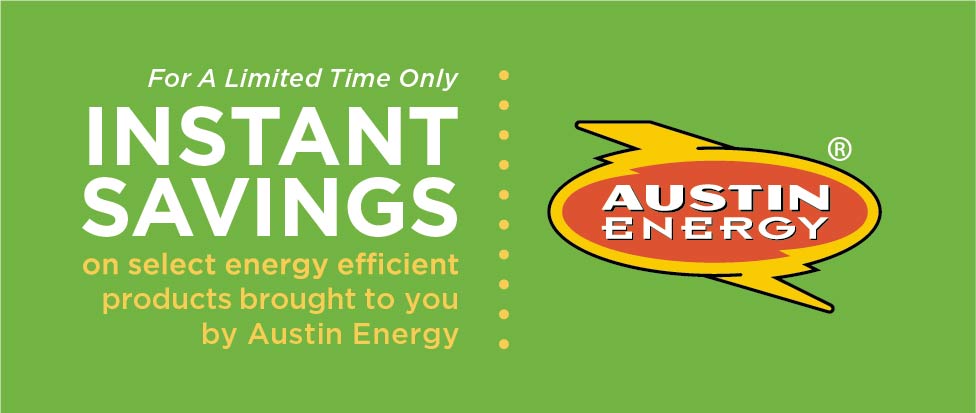 Want to Save Even More? Other Energy-Efficiency Discounts Available
Additional home savings can be yours! Austin Energy offers multiple discounts on home energy efficiency improvements, including:
Home Performance with ENERGY STAR® — Our award-winning Home Performance with ENERGY STAR program is a whole-home approach to energy efficiency.
Power PartnerSM Thermostats — Internet-connected thermostats give you the power to control your thermostat. Earn an $85 discount if you allow Austin Energy to adjust your temperature slightly during peak usage.
Pool Pump Discounts — Get a discount on energy-efficient pool pumps that save you money and keep your pool clean.
Date last reviewed or modified:
02/16/2023