Questions?
Austin Energy
Customer Energy Solutions
4815 Mueller Blvd.
Austin, TX 78723-3573
512-482-5346
512-972-8350
Save Money & Energy
Saving energy and money go hand-in-hand. We can all contribute to reducing Austin's energy demand by making simple lifestyle changes and energy-efficient home improvements. When demand decreases, we all save. Austin Energy is committed to helping our customers achieve the greatest savings possible.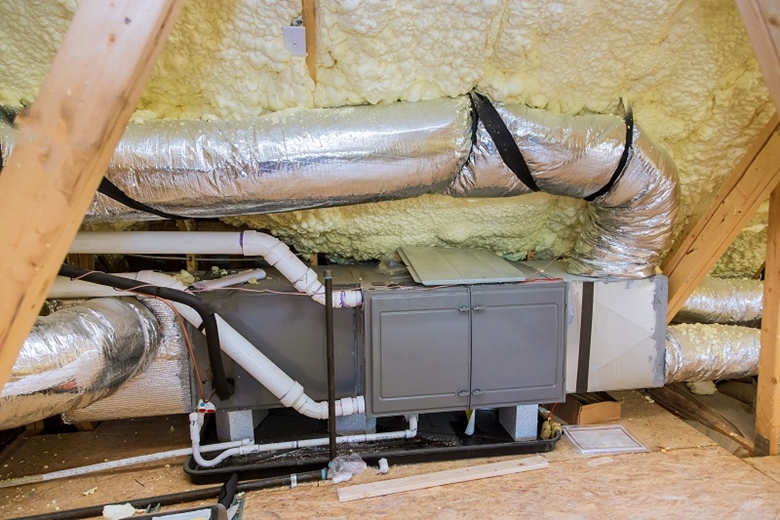 Don't let cool air and money escape. Seal your air ducts and earn a rebate. Austin Energy offers rebates for improving air duct system efficiency.
Limited Time Bonus Offer!
Multifamily properties are now eligible for an additional bonus of up to 20% over current rebate levels, for a total incentive of up to 100% of the project cost.
Multifamily income qualified properties – normally eligible for an incentive of up to 100% of the cost of energy efficiency measures – may now qualify for a bonus of 20% on approved out-of-pocket expenses not normally covered by rebates.
Installation must be complete by December 31, 2023.
Leaky ducts in the average apartment unit may allow more than 30% of cooling to escape. A duct system diagnostic inspection and test can identify necessary repairs that may qualify for a rebate, including:
Replacing or improving the duct system
Sealing leaky duct returns, supply buckets, and air handlers for AC systems with

Uncased fan coils
Electric upflow, horizontal, electric-cased fan or heat pump systems
Gas heat or stud-mounted air handlers
A duct system analysis consists of diagnostic pressure tests using a basic duct blower. Only approved participating contractors that are BPI certified may do the work.
Call a participating contractor who is approved to do this work in multifamily properties to schedule a duct system diagnostic inspection and test.
Financing is Available
Affordable, long-term financing is available to cover the cost for energy efficiency, water conservation, and onsite generation technologies.
Program Requirements
Specific Requirements
Property must be at least 10 years old (based on date of Certificate of Occupancy)
The total system air flow loss must be 30% or higher for uncased fan coil units (a.k.a. furred down units) or 25% or greater for all other air handler units.
Only approved products to be used for envelope air infiltration work. Weatherization products must be permanent, and all caulking products must be guaranteed for a minimum of 25 years. The use of silicone acrylic and pure silicone caulk is encouraged.
All new ducts must be R-8, as determined by Air Diffusion Council guidelines, local codes, and must be UL listed.
Sealing materials shall have excellent cohesive and adhesive qualities and shall conform to the latest NFPA 90-B Warm Air and Air Conditioning system standards
An inspection will be conducted for biological growth, water leaks, water damage, and breaches in the surfaces of the isolated space before sealing. Repairs will be completed before duct work can begin.
Health and safety concerns for occupants and workers, in relation to repairs and materials, will be addressed in accordance with OSHA standards (OSHA 1926, 1910).
Participating Contractor Required for Rebate
Austin Energy requires that you use an Austin Energy participating contractor to qualify for this rebate. Participating contractors meet Austin Energy requirements for licensure, insurance, workmanship, and equipment.
Comply with ECAD to Qualify for Rebate
If your multifamily property is 10 years or older and located within the Austin city limits, you must be in compliance with the Energy Conservation Audit and Disclosure (ECAD) ordinance before receiving a rebate check. ECAD promotes energy efficiency by identifying potential energy savings for your property.
Properties that have not completed an ECAD audit are eligible to receive a rebate (capped at $2,500) to cover the audit cost. Get ECAD audit rebate details
Getting Started
Provide your contact information. We have streamlined our process to get you started quickly!
Application
An Austin Energy representative will contact you to collect information about your multifamily community and determine rebate eligibility.
We will provide trained staff to help complete and submit the application.
Interested?
We need to assess your property or multifamily community to determine rebate eligibility.
Once your application has been accepted, a participating contractor will schedule a site visit to develop and review the scope of work with you.
Installation
Austin Energy will issue a Letter of Intent (LOI) and the participating contractor will have 120 days to complete the installation.
Austin Energy staff will conduct real time inspections to keep the project on time and ensure a quality project.
Final Inspection
An Austin Energy Program Coordinator will schedule a final inspection with the property manager or owner to confirm that all work was performed to expectations.
The rebate will be paid to the contractor if authorized by the account holder.
Contact Austin Energy for More Information
Call 512-482-5346 or email Multifamily Rebates if you have any questions about our rebates.
Participating Contractor Required for Rebate
Austin Energy requires that you use an Austin Energy participating contractor to qualify for this rebate. Participating contractors meet Austin Energy requirements for licensure, insurance, workmanship, and equipment.
The selection of a Participating Contractor to perform work is the sole decision of the property owner and/or authorized lessee/occupant. Inclusion in this directory does not represent an endorsement by Austin Energy of any product, individual, or company. No work is guaranteed or warranty expressed or implied, and Austin Energy makes no guarantees as to the quality, cost, or effectiveness of the products provided and work performed by the contractor, employees, or subcontractors.
Disclaimer
Rebates are paid only after Austin Energy has approved the rebate application and conducted any necessary site inspections. All installed equipment must comply with local, state, and federal regulations, including building code and permitting requirements. Offerings, program requirements, and rebate levels are subject to change without notice. Funding is limited and available on a first-come, first-served basis. The maximum combined rebate is $300,000 per customer site per fiscal year (October through September).
Date last reviewed or modified:
12/01/2022