Questions?
Austin Energy
Customer Energy Solutions
4815 Mueller Blvd.
Austin, TX 78723-3573
512-482-5346
512-972-8350
Save Money & Energy
Saving energy and money go hand-in-hand. We can all contribute to reducing Austin's energy demand by making simple lifestyle changes and energy-efficient home improvements. When demand decreases, we all save. Austin Energy is committed to helping our customers achieve the greatest savings possible.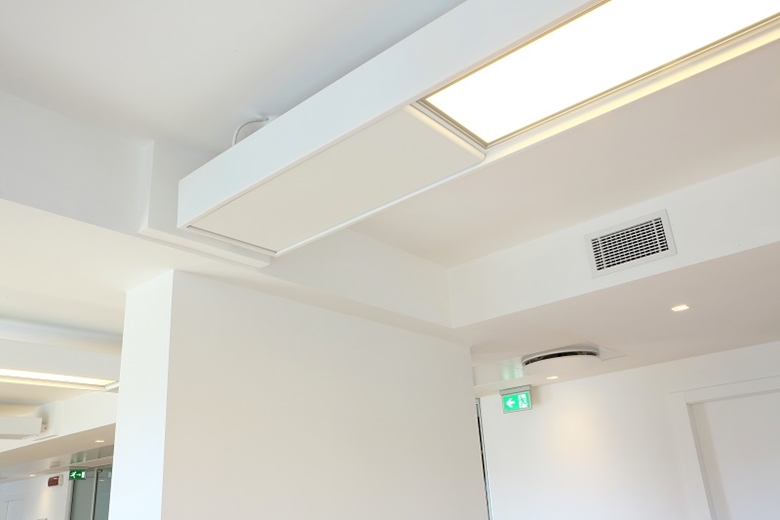 Earn big discounts on bright lights. Austin Energy offers small business and small non-profit customers up to an 80% discount to install high-efficiency lighting. Contact a participating contractor to get started.
Limited Time Bonus Offer!
All commercial customers and houses of worship are eligible for an additional bonus of up to 30% for projects that complete installation by December 31, 2023. The bonus amount cannot exceed $10,000 and the total rebate cannot exceed 95% of the project cost.
The cost of buying high-efficiency lighting can be an obstacle for small businesses and small non-profits. Austin Energy works with local lighting professionals to offer a substantial discount that helps:
Reduce upfront costs
Retrofit new, energy-efficient lighting that lasts longer
Reduce your electricity bill
Our discount requires less administrative effort and costs you less. You receive the discount at purchase instead of waiting for a rebate. And, depending on the lighting retrofit or fixture you use, your discount may be as high as 80%.
Participating Contractor Required
Austin Energy requires that you use an Austin Energy participating contractor to qualify for this offering. Your participating contractor can help you choose the right equipment. Participating contractors meet Austin Energy requirements for licensure, insurance, workmanship, and equipment.
One of our participating contractors will conduct a free lighting inventory that provides:
A comprehensive retrofit proposal with cost estimate
Austin Energy's portion of the cost
Anticipated energy savings
To get started, contact one of our participating contractors.
More Savings Opportunities for Small Businesses
Qualified small businesses, small non-profits, and houses of worship may also be eligible for a 30% bonus rebate on our standard commercial rebates. This bonus rebate applies only to retrofits for a wide range of improvements.
Learn more about bonus rebates
Call Austin Energy at 512-482-5346 or email Small Business Outreach for more information.
PACE Financing Available
Austin Energy provides various opportunities for our customers to purchase energy efficient technologies. Many of these reduce energy consumption and enhance comfort and indoor air quality for your customers. PACE is an effective financing approach. Travis and Williamson County PACE programs enable owners of non-profit, commercial, and industrial properties to obtain low-cost, long-term financing for water and energy efficiency improvements and solar generation retrofits.
Private sector lenders finance qualified improvements and property owners voluntarily agree to contractual assessments imposed on the property. PACE improvements generate positive cash flow with no out-of-pocket cost to the property owner. If the property is sold before the full amount is repaid, the repayment obligation automatically transfers to the next owner. PACE assessments complement Austin Energy incentive programs.
Austin Energy offers small business and small non-profit customers up to an 80% discount on the turnkey purchase and installation of interior high-efficiency lighting equipment.
Prerequisites
Applicants must use an Austin Energy approved participating contractor (see Find a Contractor tab).
Applications must be submitted prior to installation. Rebates will not be provided retroactively to equipment or retrofits that have already been installed.
Small Business Lighting rebates are available for Austin Energy customers with commercial electric service that meet all eligibility requirements. Businesses located on properties with residential electric service should refer to Austin Energy residential rebates. Eligibility for large campuses or facilities with multiple accounts held by one customer will be determined on a case-by-case basis. To determine if you qualify, please contact us.

Eligible small businesses must: 1) be locally owned or franchised (headquartered in the Austin metropolitan area — a W-9 may be required to verify); and 2) use Austin Energy Secondary Voltage Rate 1 (<10kW) or Rate 2 (>10kW <300kW).
Eligible non-profits must: 1) provide an IRS determination letter or similar IRS documentation verifying their tax-exempt 501(c) status; and 2) use Austin Energy Secondary Voltage Rate 1 (<10kW) or Rate 2 (>10kW <300kW). Government entities, tax exempt real estate trusts and housing co-ops are not eligible for this bonus.
All houses of worship are eligible, regardless of rate.

Rebates are only available for lighting retrofits that:

operate weekdays between 3:00 p.m. and 6:00 p.m., June through September (educational facilities and houses of worship are exempt from this requirement);
provide kW savings by exceeding requirements for energy efficiency listed in City of Austin Energy Code Chapter 25-12-261 or as determined by Austin Energy;
are new, energized, and have a minimum one year warranty (backup or redundant systems are not eligible); and
are installed in permanent buildings or structures with the intent that the equipment will remain operational for its full expected use life.

The building where the equipment will be installed must comply with the Energy Conservation Audit and Disclosure (ECAD) ordinance (unless exempt or located outside of Austin city limits).
Only existing buildings qualify for Small Business Lighting Rebates. Please refer to Commercial rebates for New Construction projects.
Small Business Lighting Program Requirements
Austin Energy can help customers evaluate energy efficiency opportunities for their business or organization. Please contact us for assistance on calculating potential rebates or other technical guidance.
Applications must qualify to receive at least $25 in rebates.
Customers must use an Austin Energy Small Business Lighting Participating Contractor. In coordination with the customer, the participating contractor must:

submit all required application information and equipment documentation (incomplete applications are placed on hold and may be cancelled after 90 days); and
schedule pre-installation and post-installation site visits to allow Austin Energy staff to verify existing and installed equipment.

For customers applying for a rebate to upgrade or retrofit the same equipment that received a past historical Austin Energy, the new rebate will be calculated based on the incremental energy savings. For example, if a customer or property received a historical lighting rebate, any new lighting equipment rebates will be calculated using the incremental energy savings between the existing and new equipment. Exemptions for this requirement due to emergency replacement of failed equipment are evaluated on a case-by-case basis.
Rebates will not be paid unless all installed equipment and retrofits comply with manufacturer requirements and all local, state, and federal regulations, including building code and permitting requirements. For requirements on when electrical permits are required, refer to City of Austin Municipal Code chapter 25-12-113, section 80.19(c). For requirements on when permits are required for mechanical work, refer to City of Austin Municipal code chapter 25-12-133, section 104.2. For more information on mechanical, electrical, and building permits contact the City of Austin Department of Development Services.
Small Business Lighting Program rebates cannot exceed 80% of the total job costs for the project, including materials, installation, and tax. The customer and contractor must confirm the total project cost with an itemized invoice or work order for verification.
Austin Energy reserves the right to deny or adjust all rebate applications.
Participating contractors must comply with all program requirements and conduct business in an honest, professional, and ethical manner. All participating contractors must abide by the Austin Energy Code of Conduct and Ethical Requirements (pdf).
Getting Started
Provide your contact information. We have streamlined our process to get you started quickly!
Application
To begin an application, please contact an Austin Energy participating contractor. See the Find a Contractor tab for a complete list.
An Austin Energy participating contractor must perform the work to qualify for this rebate. The participating contractor will complete and submit the application.
Once your application has been accepted, the participating contractor will schedule a site visit to go over the scope of work with you before any work is completed.
Installation and Inspection
The customer and contractor will agree on the scope of work and any potential out-of-pocket costs before installation starts.
Interested?
We can help you learn more about your rebate and savings options before you apply.
Are You Waiting For a Rebate?
Use the confirmation (enrollment) and utility account numbers to check the status of your rebate application.
Austin Energy staff may conduct real-time inspections for quality assurance.
Final Approval and Payment
Austin Energy will review the application and send payment to the participating contractor or customer.
Contact Austin Energy for More Information
Call 512-482-5346 or email Commercial Rebates if you have any questions about our rebates.
Find a Participating Contractor
You must use an Austin Energy participating contractor to perform your installation. These companies can help you with the application process. We recommend that you check references and get a least three estimates from the companies listed below.
The selection of a Participating Contractor to perform work is the sole decision of the property owner and/or authorized lessee/occupant. Inclusion in this directory does not represent an endorsement by Austin Energy of any product, individual, or company. No work is guaranteed or warranty expressed or implied, and Austin Energy makes no guarantees as to the quality, cost, or effectiveness of the products provided and work performed by the contractor, employees, or subcontractors.
Disclaimer
Funding is limited and available on a first-come, first-served basis. Offerings, program guidelines, and rebate levels are subject to change without notice. Rebate funds are encumbered (committed to be paid) during the fiscal year in which they are to be disbursed.
The maximum combined rebate is $300,000 per customer site per fiscal year (October through September).
Date last reviewed or modified:
12/01/2022